When you book a tour you are placing your trust in people. People who know the area, people who care about your vacation, people who are just as crazy about motorcycles as you. Here's who makes Leod Escapes a superior motorcycle touring experience.
---
Cat David MacLeod - TourMaster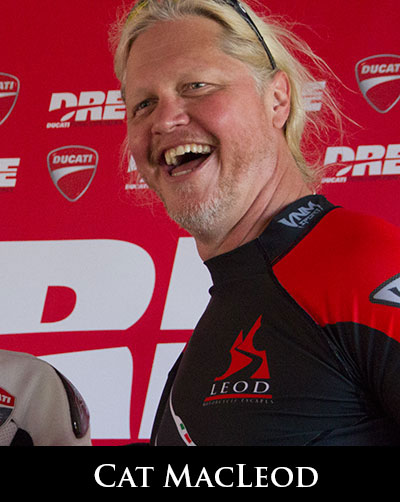 Cat MacLeod has ridden all over the world and worked in the motorcycle industry for over 15 years and the travel industry for seven. The "International Tour with Track Time" was a crazy idea he came upon while riding with his German friend Matthias at the small east German track of Groß Dölln. While Cat plans and organizes motorcycle tours all over the world he lives in Northern California for a reason. It has the best sport touring in the world. Living in the San Francisco Bay for over 20 years area has a made him a connoisseur of both riding roads and great food, so he's always on the lookout for that unique dining experience.
"The best way to see the world is on a motorcycle. Those who know this deserve better than interstates and tourist traps. Leod Escapes was founded on the principles of epic hidden roads, great food and plush pillows, delivered with passionate service and a sense of adventure." - Cat MacLeod
---
Airon Green - California Guide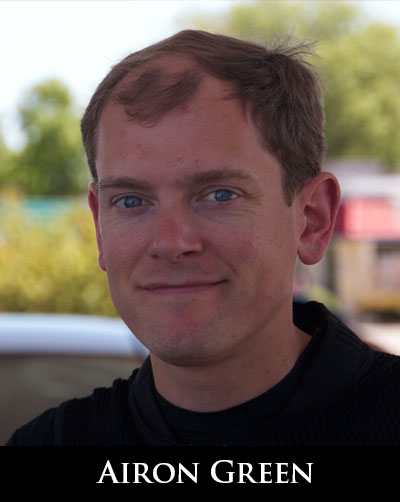 Airon's ridden the backcountry roads of California for over 22 years and that includes plenty of dirt and adventure riding experience. Fun, trustworthy and as reliable as shaft drive Airon's the guy who keeps your escape trouble free. He is handy with a roadside wrench and always seems to carry snacks in his tank bag. You want Airon up front as he is blessed with incredible eye sight that can spot an eagle in the distance or that patch of gravel 2 turns ahead. Airon's a computer tech genius but he's equally comfortable performing a roadside valve adjustment or pointing out the best brew at the local bar. His riding ability and foresight keeps a tour exciting on the road and relaxed at the stops. He's also the only guide we know that can toast you in both Gaelic and Klingon.
---
Matthias Cypris - Germany Coordinator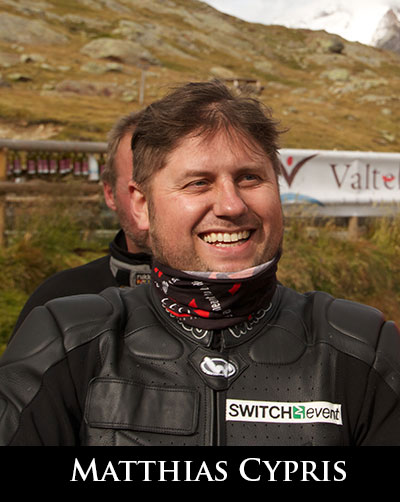 Matthias is the most ungerman German you will ever meet. He's brilliant, crazy, disorganized and loads of fun. He is particularly talented at getting people to do things they really shouldn't which makes him great in an emergency. He also does not get hangovers. The best and worst words you can hear from Matthias are "I have an idea" either way he is never dull and is very helpful in coordinating our tours in Germany. Particularly when it is time for evening celebrations.
---
Angela & Norbert Manneck - Italian Alps Guides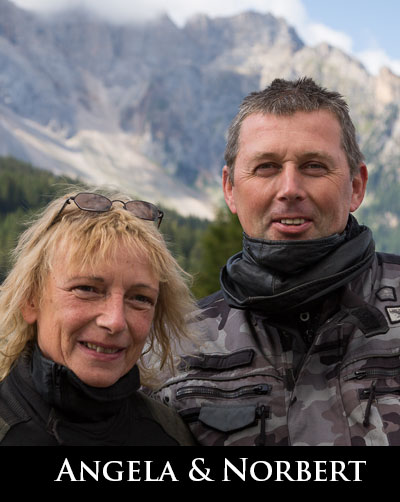 Angela & Norbert have ridden the Italian Alps for decades. Norbert's GPS is in his head. He know all the little roads and well as the multiple passes. He can quickly reroute a group just by watching the weather and knowing which backroad to take. Norbert is the calm man when trouble happens. Angela is often the sweep rider and helps keep the group together. Angela is also a great help in making visitors feel welcome.
---
Enrico Grassi - Italian Coordinator & Guide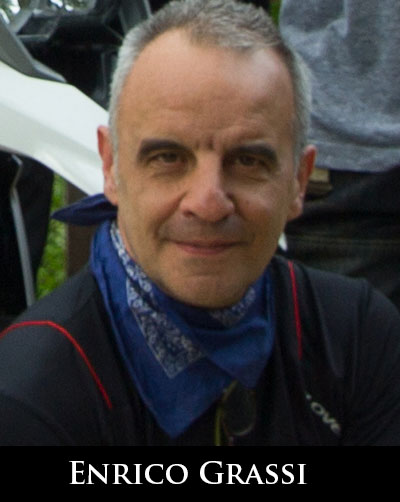 Enrico's family has lived in Rome for generations. He used to produce TV commercials so he knows how to organize an event and keep things on schedule. He's also a very talented rider. Enrico knows all the great backroads, all the proper insider tips on Italian dining. In the evening Enrico is pure Italian entertainment with stories, tips and laughter.
---
Gwynne Fitzsimmons - California Mobile Concierge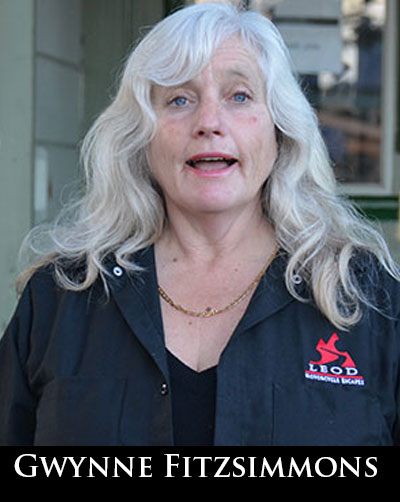 There's never been a bigger heart on two wheels than Gwynne. Across the Bay Area motorcycling community Gwynne knows everyone and everyone loves Gwynne. With a flair for upscale service Gwynne turned the simple job of luggage driver into a full service hospitality position that makes your vacation special. Got a special request or an odd problem? Gwynne's on it. Need a warm smile in a strange place? Gwynne is there.
---
Nancy MacLeod - Operation Manager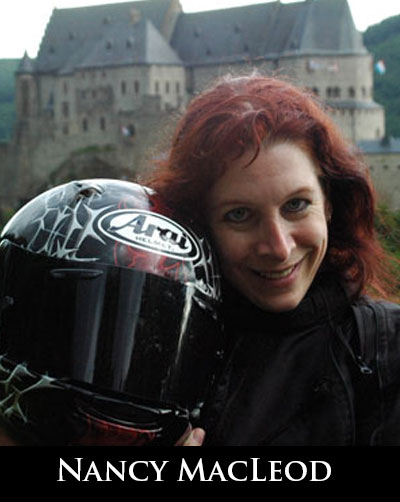 The motorcycling world is filled with great riders but few great passengers. Through rain, dust, sand and snow, Nancy's photo journalistic efforts prove she's seen more of the world from the back of a bike than riders ever witness. Nancy has worked in the medical industry for over 20 years and is particularly skillful and navigating bureaucracy. The constant organizer Nancy is often the power behind a great tour making it flow smoothly.