Thinking of Arriving early or staying late in Munich?
Munich is where Germany comes to party and it is a beautiful and sophisticated city with excellent public transport. MarienPlatz is the heart of the city of Munich. The public square used to be a marketplace, but festivals and events are still held here as they were in the Middle Ages. See the column of St. Mary, marvel at the gothic style New Town Hall and watch the famous Glockenspiel toll out the 11, 12 and 17 o'clock; where figures perform a dance originally performed in 1517 at the MarienPlatz to commemorate the end of the plague. No visit to Munich is complete a stop in at a beer hall. Let the tourists hit the Hofbrau Haus there's plenty of others. You'll experience two of them on the tour and there's plenty of others. The beer really is that good. The museum of industry is well worth a visit and of course BMW "Experience" and the BMW Museum is worth a visit as well. Of greater interest is seeing the subtle way Germany blends the old with the new in this modern city.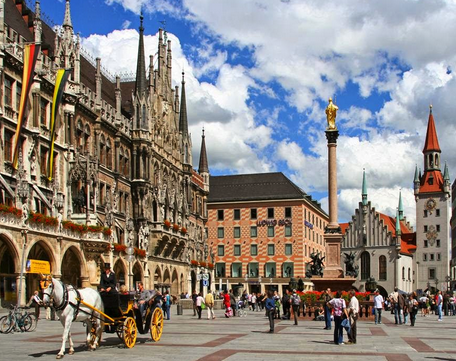 The hotels we use on this tour differ from the arrival to the departure hotels, but it is easy to get around Munich. The train system is fantastic. Is depends upon what you are coming into Munich for. The most central and historic of downtown Munich. We have several hotels we like here. There are 2 trains that go there from the airport. Best way to get there from the Munich airport (MUC) is to take the S8 train to MarienPlatz station, and then it is just a short walk to the hotels. Trains run about every 10 minutes and last time I was there it costs only about €2,80 and it takes about 45 minutes from the airport. You can also take the S1 train or Bahn.

However, our night before the tour begins we stay in a hotel in northern Munich close to the motorcycle dealerships and gear shops. It is not as glamorous a hotel, but on the more affordable side for longer stays. It is also right next to the Subway. Take the U2 stop for the Frankfurter Ring and its 2 minutes walk from there. Great places to see nearby are the Olympic Stadium and the BMW headquarters.